Back to top
News and Announcements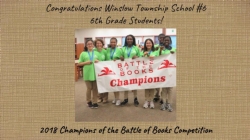 6th Grade Students from Winslow Township School #6 win Battle of the Books

What is Battle of the Books?

Battle of the Books is a reading motivation program for students. The goals of the program are to encourage reading for pleasure, broaden reading interest, and recognize students who enjoy reading.

Titles are chosen annually by librarians in New Jersey Association of School Librarians.
Starting in September, students begin reading the selected titles. This is done independently.
Students form teams consisting of 4-6 members, who are allowed to divide up the reading list. Students quiz each other on facts and details from the books.


The Battle of the Books competitions are traditionally held in the spring. There may be an inter-school battle, with the highest scoring teams advancing to the regional competition, in which several Camden County schools participate.